Echoing his remarks with French President Emmanuel Macron looking on, the head of the UN agency for Palestine refugees (UNRWA), Philippe Lazzarini, stressed the "heart-breaking" plight of children in the territory, whom he saw last week "pleading for a piece of bread and a sip of water".
Mass displacement has led to severe overcrowding in shelters and entire neighbourhoods have been turned to rubble, Mr. Lazzarini said, amid Israel's massive air and ground offensive in retaliation for Hamas' deadly 7 October attacks.
Time for action: Guterres
In a video message to the conference, UN Secretary-General António Guterres reiterated his condemnation of the "abhorrent acts of terror" committed by Hamas against Israel and again called for the unconditional release of all hostages.
He underlined support for civilians in Gaza who now "face a never-ending humanitarian nightmare", stressing that "now is the time for concrete action."
Although some aid has begun to trickle into Gaza, "it's a drop in the ocean" as needs are enormous, he said, urging the international community to step up assistance and protection.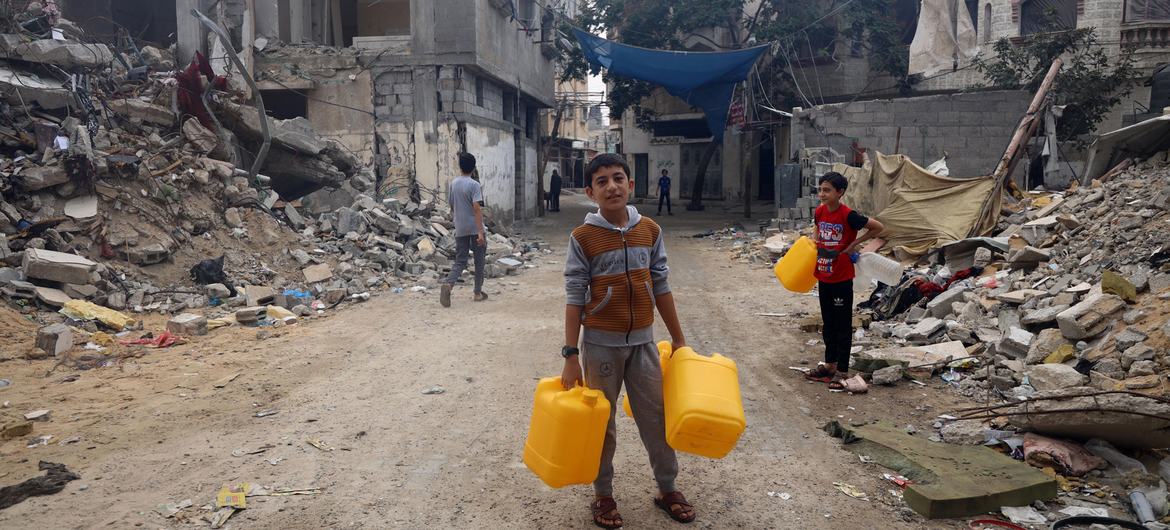 Humanitarian ceasefire, support and solidarity
"That means an immediate humanitarian ceasefire. It means ensuring full respect of international humanitarian law. It means protecting hospitals, UN facilities, shelters, and schools," said the Secretary-General.
"It means unfettered, safe, and sustained access to bring in and distribute supplies at much greater scale, volume, and frequency – including fuel. And it means investing in the $1.2 billion humanitarian appeal that the United Nations has just launched to help the people of Gaza."
Mr. Guterres called for support, saying "we can help civilians in Gaza see at last, and at the very least, a glimmer of hope – a sign of solidarity – and a signal that the world sees their plight and cares enough to act."
Protect civilians 'wherever they are'
Mr. Griffiths, who was representing the UN Secretary-General at the high-level meeting in the French capital, described meeting the families of some of the 240 people held hostage by Hamas in Gaza since the militant group carried out its terror attacks in southern Israel over a month ago.
Having also spoken with families in Gaza, Mr. Griffiths said that the situation was "insupportable" and that to allow it to continue would be a "travesty".
The UN relief chief stressed the urgent need for a humanitarian ceasefire, "silencing the guns" to give some respite to Gazans and allow for vital services to resume.
He also called for the protection of civilians "wherever they are" and reiterated concern over the displacement by Israeli military operations of hundreds of thousands of people from the north to the south of the enclave to "so-called safe zones", where in fact their security was not guaranteed.
The UN cannot support this proposal without those guarantees of safety, he said.
According to the UN humanitarian aid coordination office (OCHA) headed up by Mr. Griffiths, another 50,000 people reportedly evacuated the north of Gaza for the south on Wednesday through a "corridor" opened by the Israeli military.
More aid access vital
At the Paris conference, Mr. Griffiths and Mr. Lazzarini made a strong appeal for all parties to respect international humanitarian law in the conflict, which has already resulted in "unconscionable" numbers of civilian victims, and the loss of basic human dignity.
They called for unimpeded access for hundreds more aid trucks to bring food, water, medical supplies and fuel to desperate Gazans.
"Severely limiting food, water and medicine is collective punishment," which is a violation of international law, UNRWA's Mr. Lazzarini warned.
Both UN leaders also advocated for the opening of additional border crossings to aid, including Kerem Shalom on the border with Israel, as the volume of assistance coming through the Rafah crossing from Egypt remains insufficient.
To deliver humanitarian services in the face of soaring needs, earlier this week, the UN and its partners issued a $1.2 billion funding appeal with the aim of scaling up humanitarian operations in support of 2.2 million people in the Gaza Strip and 500,000 in the West Bank.
Helping to mobilize this funding is among the objectives of the Paris conference.
UNRWA 'last glimmer of hope'
Mr. Lazzarini appealed to donors to ramp up support to Gazans, stressing that UNRWA is the last glimmer of hope for civilians in the enclave, as staff continue to distribute food and water and serve people in shelters and hospitals, despite the risks.
The UN agency, which has paid a particularly high cost in this conflict with 99 staffers killed in Gaza, will be unable to pay its workers' salaries by the end of the year, he warned.
Fears of regional proliferation
Turning to the broader region, Mr. Griffiths said that we cannot ignore the warnings of a further escalation, citing recent flare-ups of violence in Lebanon and Yemen. He also expressed concerns over the rise of antisemitic and anti-Muslim rhetoric.
The UN relief chief stressed the crucial role of multilateral diplomatic efforts to protect civilians, ensure aid access and enable the release of hostages.