President Joe Biden is optimistic about reaching an agreement with congressional Republicans on the nation's debt ceiling. A follow-up meeting between the parties will take place on May 16, the president said.
House Speaker Kevin McCarthy (R-Calif.) told reporters that Democrats appear to want a default more than they want a solution to the problem.
Biden spoke briefly with reporters in Rehoboth Beach, Delaware, on May 14 about the progress of negotiations. While he declined to give specifics, the president said he believes a settlement is within reach.
"Well, I've learned a long time ago, and you know as well as I do: It never is good to characterize a negotiation in the middle of a negotiation," Biden said. "I remain optimistic because I'm a congenital optimist. But I really think there's a desire on their part, as well as ours, to reach an agreement, and I think we'll be able to do it."
His comment acknowledged for the first time that the talks held in connection with raising the debt ceiling and cutting federal spending are, in fact, a negotiation.
First Progress
Biden and McCarthy initially met to discuss the matter on Feb. 1. Biden then declined a second meeting, saying he wouldn't negotiate over the debt ceiling as that would put the "full faith and credit of the United States" at risk. Biden also said there would be no point in discussing Republican demands for spending cuts until they released a budget showing their intentions.
On May 1, five days after McCarthy was successful in passing a Republican plan for spending cuts–the Limit, Save, Grow Act–in a narrowly divided House, the president invited top congressional leaders to a White House meeting on May 9.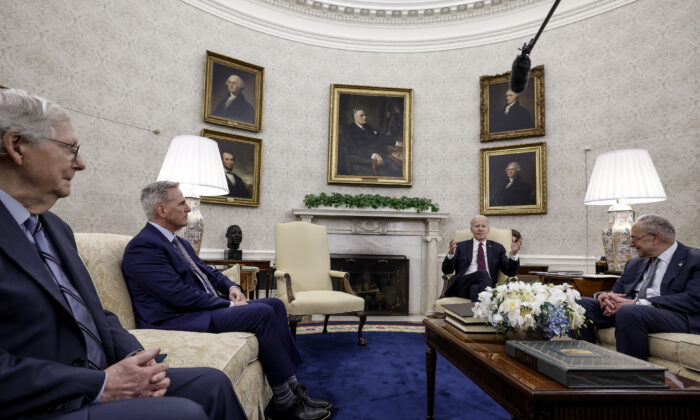 White House press secretary Karine Jean-Pierre later said the meeting, which also involved House Minority Leader Hakeem Jeffries (D-N.Y.), Senate Majority Leader Chuck Schumer (D-N.Y.), and Senate Minority Leader Mitch McConnell (R-Ky.), signaled progress.
"It was a productive meeting about a path forward to make sure that America does not default on its debt for the first time in our history," Jean-Pierre told reporters on May 10.
"Everyone in the meeting understood the risk of default. It would erase millions of jobs, trigger a recession, devastate retirement accounts, and increase borrowing costs," she said, adding that White House and congressional staffers would meet daily until the leaders next met.
Republicans are demanding a cap on federal spending at the 2022 level with 1 percent annual increases for 10 years, the clawback of $60 billion in unspent COVID-19 relief funds, strengthened work requirements for some recipients of SNAP and Medicaid benefits, and looser restrictions on drilling for oil and gas.
Although Democrats have roundly denounced the provisions as harmful to veterans and working-class Americans, Biden has signaled that he's open to concessions on some points.
"I voted for tougher aid programs—that's in the law now—but for Medicaid, it's a different story," Biden said when asked about stiffening work requirements for social services. "I'm waiting to hear what their exact proposal is."
Increased Rhetoric
McCarthy denied on May 15 that there had been much progress, in remarks to reporters.
"I still think we're far apart. It doesn't seem to me yet they want a deal. It just seems like they want to look like they are in a meeting, but they're not taking anything serious," McCarthy told NBC and CNN.
"It seems like they want a default more than a deal."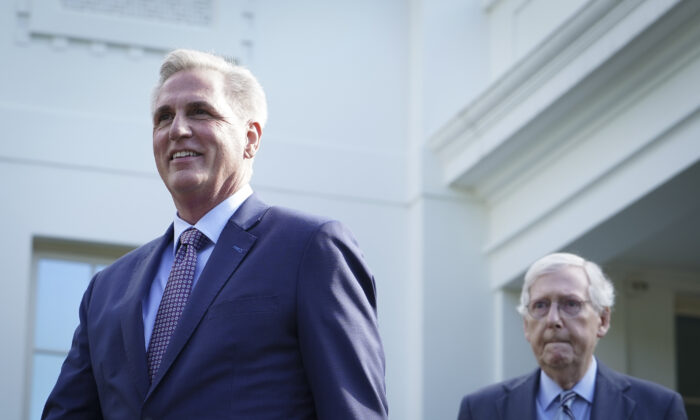 Jeffries likewise escalated the tone of the rhetoric.
"[Former President Donald] Trump has ordered right-wing extremists to demand painful cuts or force America into a devastating default. House Dems put people over politics. Extreme MAGA Republicans do the exact opposite," Jeffries wrote on Twitter on May 15.
Treasury Secretary Janet Yellen warned on May 1 that the country could breach the statutory $31.4 trillion debt ceiling as soon as June 1, which would require the government to delay some bill payments if a deal isn't reached before then.
The Congressional Budget Office (CBO) released revised guidance on May 12 indicating that "there is a significant risk that at some point in the first two weeks of June, the government will no longer be able to pay all of its obligations" if the debt ceiling isn't raised.
CBO had previously forecast that the debt ceiling would be reached in late summer. Weaker-than-expected tax receipts over the spring caused both Yellen and CBO to revise their estimates.
Schumer and McConnell didn't respond by press time to requests by The Epoch Times for comment.