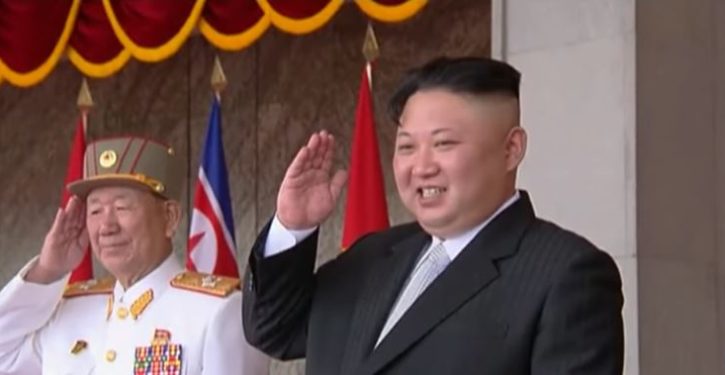 Kim Jong un (Image: YouTube screen grab via Fox News)
Famine is spreading in North Korea, which previously suffered a famine that killed more than two million people in the 1990's. Dozens of people a day are dying of starvation on the streets in the city of Kaesong, while others are killing themselves to avoid slowly starving to death.
Thing have gotten so grim that North Korea has now cut rations to its soldiers for the first time in more than two decades as the crisis worsens.
Stockpiles of food are rapidly shrinking throughout the secretive and isolated communist country. Things got much worse recently due to a combination of natural disasters wiping out crops and the war in Ukraine, which slashed food production in Ukraine, one of the world's biggest food exporters and breadbaskets.
But the country's fat dictator, Kim Jong-Un, continues gorging himself on junk food and booze. During a grand military parade last month, the dictator and his pals were seen stuffing their faces with popcorn and cakes, and washing it down with shots of liquor and glasses of champagne. A state broadcast of the event to the nation's hungry citizens showed stacks of food that ordinary people in North Korea could only dream of eating — such as piles of cheese, breadsticks, and fresh fruit, and a chocolate fountain. Kim and his daughter Kim Ju Ae reclined on a sofa with a wide array of cakes and beverages.
Kim's opulent feasts come amid growing fears of a repeat of the devastating 1990s famine, the so-called Arduous March – which according to some estimates killed more than three million North Koreans.
In a rare move, the government is holding a major meeting over the next few days to discuss the state's disastrous agricultural problems. A North Korea analyst warned that  North Korea's food security situation has "hit levels previously seen in the 1990s. North Korea is getting close to an environment similar to the Arduous March. Some assessments have said the country is already there. It is somewhat probable that North Korea might once again face a similar situation as in the 1990s. Usually the Central Committee meets once or twice a year, so this meeting at the end of February is notable – and shows that food insecurity represents an acute problem to the political leadership."
The 38 North Program, which monitors North Korea, warned "food availability has likely fallen below the bare minimum with regard to human needs." Price data shows food availability is at its worst since the famine of the 1990s.
North Korean families often only eat one or two meals each day to avoid completely running out of food.
A government official told ROK media: "Even though North Koreans are suffering from a food shortage comparable to the 'Arduous March', Kim Jong-un does not seem to have any will to change his policy to find a solution."
Lucas Rengifo-Keller, a researcher at the Peterson Institute for International Economics, said North Korea is "teetering on the brink of potentially mass starvation".
"With a population that is already chronically malnourished, it won't take much to reach a level where you have broad mass starvation," he told NK News.
Kwon Tae-jin, an expert on North Korean agriculture and adviser to the South Korean government, warned the food situation is the worst it's been in years.
"Last year's crop production was not good and the government's stocks are running out," he said.
"And while there could be unofficial rice imports from China, the fact that prices are unstable suggests that those unofficial imports are also insufficient."
As the situation worsens, Edward Howell says many will question Kim Jong-un's decision to ramp up military spending as his nation faces a dire food crisis.
"There will likely be popular questioning – which is not new – of the sheer cost of the DPRK's nuclear program compared to the situation on the ground," he said.
A North Korean analyst said a rampant famine "would certainly downgrade" Kim Jong-un's "prestige among the North Korean population".
"The veneration of the leader and Kim Family would become less prominent," he said.
"But food insecurity is unlikely to topple the regime itself or compel structural changes to the political system. If it didn't change during the 1990s, then it is not going to change now.
Most analysts expect fewer than a million North Koreans to starve to death in the current famine. But its economy and society will be affected in the long-term by the chronic effects of malnutrition, such as people being physically stunted and less healthy throughout life due to growing up during a famine. Such people may be less productive and intelligent through life because of periods of starvation during childhood.
North Koreans are several inches shorter than South Koreans due to chronic malnutrition. The country is also deeply xenophobic. As a result, Slate once called North Korea "A Nation of Racist Dwarfs."
For your convenience, you may leave commments below using Disqus. If Disqus is not appearing for you, please disable AdBlock to leave a comment.